Locations for our gift shops are unique to the local area.  We carry items such as locally made art, photography, pottery and jewelry, water bottles, sunscreen, soap, lotion and SPF protection lip balm, hats. Specialized Tee shirts and, of course, Smokey Bear items and other local wildlife plush animals. Locations are listed below:
Red Rock Ranger District: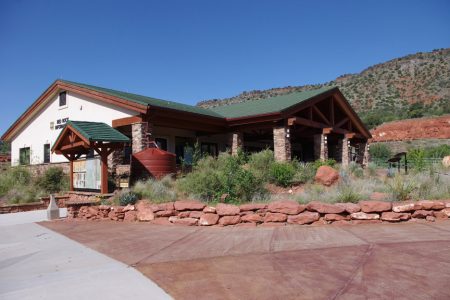 Red Rock Ranger Station Visitor Center – Route 179,  on the right six miles from I-17 Sedona Exit. – Hours: 9:00 to 4:30 , Open Year Round 7 days per week Closed Thanksgiving and Christmas.   GPS (Map): 34°45'25.9″N 111°45'51.3″W
Oak Creek Canyon Vista – Top of Oak Creek Canyon Route 89A. Native Americans for Community Action also has vendors selling authenticated Native American merchandise. Open seasonally March-October.
Palatki Heritage Site –  89A to Dry Creek Rd. There are Palatki Direction signs at every intersection.  Left onto Boynton Pass Road (FR 152C).  Turn Left at stop sign, Left again. Pavement ends in approx. 2 miles. Continue on gravel road 3 miles to T section of FR 525. Turn right.  Continue 2 more miles to Palatki. Please call to reserve your tour.  (928) 282-3854. Hours:  9:30 a.m. and 3:00 p.m. Red Rock or Interagency Pass is needed.  Rough Road, also Site may be closed if heavy rain.  – Closed Thanksgiving and Christmas.   GPS (Map): 34°54'53.6″N 111°54'08.4″W
V bar V Heritage Site – 2.8 miles east of the junction of I-17 and SR179 (FR 618).  Watch for the entrance on your right less than one-half mile past the Beaver Creek Campground. – Hours are 9:30 a.m. to 3 p.m.  Tel:928-282-3854 – Open Friday, Saturday, Sunday and Monday. – Closed Thanksgiving and Christmas.
GPS (Map): 34°39'55.4″N 111°42'57.8″W.
Flagstaff Ranger District:
Flagstaff Ranger Station, 5075 N. Hwy 89, Flagstaff, AZ 86004
Tel: 928-526-0866 – Closed weekends and holidays
Blue Ridge Ranger District:
Blue Ridge Ranger Station, Hwy 87 at Milepost 299.8, Happy Jack, AZ
Tel: 928-477-8855 – Closed weekends and holidays
Coconino Supervisor's Office

,  1824 S. Thompson St., Flagstaff, AZ  86001
Tel: 928-527-3600 – Closed weekends and holidays
Black Mesa Ranger District:
Black Mesa Ranger Station, 2748 Hwy 260, Overgaard, AZ 85933
Tel: 928-535-7300 –  Closed weekends and holidays
The Mogollon Rim Visitor Center:  
(Seasonal -Memorial Day- appox. December)
The log-cabin style visitor's center is located on the south side of Highway 260 approximately 32 miles east of Payson and 27 miles west of Heber/Overgaard Hwy 260 .  Tel:  928-535-7300 – Open Thursday – Sunday and Holiday Mondays 
Big Lake Information Center:

 
(Seasonal – June-Labor Day)
Tonto National Forest                            Tonto NF website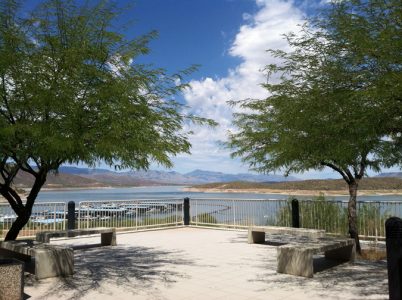 Tonto Basin Ranger District:
Roosevelt Lakes Visitor  Center,
Hwy 188, at Milepost 243, Roosevelt, AZ 85545
Tel: 928-467-3200 – Hours: 7:45-4:30 –
Open year round Monday thru Saturday, Closed Thanksgiving, Christmas and New Year's Day.
Payson Ranger District:
Payson Ranger Station, 1009 E. Hwy 260, Payson
Tel: 928-474-7900 – Closed weekends and holidays
Mesa Ranger District:
Mesa Ranger Station, 5140 E. Ingram, Mesa, AZ 85205
Tel: 480-610-3300
928-535-7300 –  Closed weekends and holidays
Cave Creek Ranger District:
Cave Creek Ranger Station, 40202 N. Cave Creek Rd, Scottsdale, AZ 86351
Tel: 480-595-3300 – Closed weekends and holidays
When visiting any destinations on the National Forests, please follow leave no trace principles
Plan Ahead and Prepare
Travel and Camp on Durable Surfaces
Dispose of Waste Properly
Leave What You Find
Minimize Campfire Impacts
Respect Wildlife  &
Be Considerate of Other Visitors
For more information: Leave No Trace