Photo & Content Credit:
Verde Valley & Sedona 3D Maps
Photo & Content Credit by:
Verde Valley & Sedona 3D Maps
Sedona's Secret 7
Sedona Chamber of Commerence & Tourism Bureau maps out the perfect 7 trails for hikers that are looking for trails less traveled. Use the button below to be redirected to SedonaSecret.7
Photos courtesy of the USDA Coconino National Forest Service, and ANHA employees. 
Woods Canyon Trail
Trail number 93. This trail has been rating easy, and from stop to finish it can take 4-5 hours.  
Jacks Canyon Trail
Trail Number 55. This Trail has medium usage, and the best time to enjoy this beautiful hike is March through November. 
Turkey Creek Trail
Trail Number 92. This trail offers vistas and interesting geology. Allow 4 hours for round trip visitng this less traveled trail.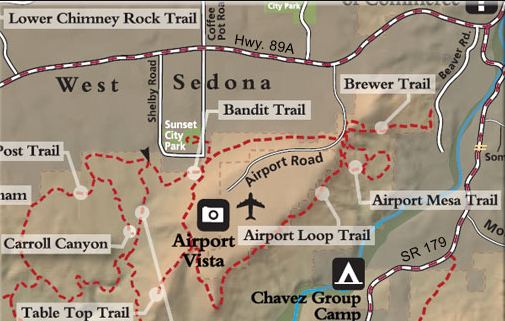 Airport Loop Trail
Trails #211/212, Bandit Trail, Brewer Trail. These trails have a light to medium usage, and is only 2.5 hours round trip. The views here are over West Sedona and of Capitol Butte and Wilson Mountain. 
Schuerman Mountain Trail
Trail Number 56. This trail is considered easy usage, and is great for hiking, bicylcing, and horseback. On weekdays use the dirt pullouts to park.
Chimney Rock Loop Trail
This trail is part of the North Urban Trail system.The North Urban Trail System is an interconnected series of trails along the red rock front country at the north edge of Sedona.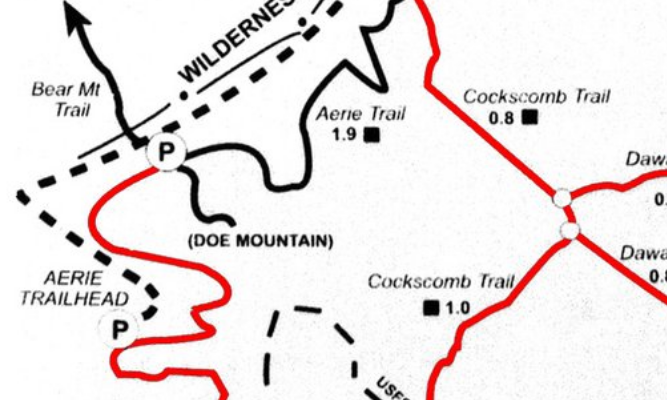 Aerie Trail
This trail is considered to be moderate usage. It is part of the Cockscomb Area Trail system, which gives you beautiful views. Hiking time ranges from 1 hour to up to six hours depending on which trail you take.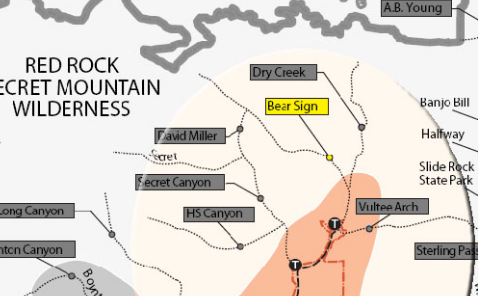 Bear Trail
Trail number 59. This trail has a moderate usage, and is used for hiking and horses. An infrequently used trail that has a true remote feel. It is shady, and can be hiked in summer. Begin on Dry Creek Trail. Its signed trailhead is west of the parking area across a wash. The trail immediately enters Wilderness Area and turns right as it meets Dry Creek and follows along this usually dry streambed.
Turkey Creek Trail
Trail number 92. This trail has a medium usage, and is open to hiking, bicycling and horseback. This seldom used trail offers vistas and interesting geology. This trail is is very secluded diverse. Rating is moderate for hikers, and strenuous for bikers.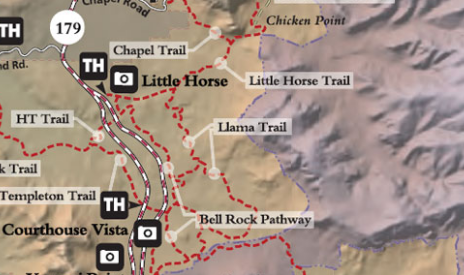 Llama Trail
This trail is considered one of five most popular mountain biking trails. Before the Llama Trail was marked, bikers carved a broad area around the trail intersection attempting to locate the Llama Trail access. Please stay on the trail so the area can heal. Bikers should take care to use the Bell Rock Pathway to access the Bell Rock Vista parking area.
Trail number 170. This trail has a heavy usage, and the best timeto visit is Spring through Fall. The busiest season is Summer. Great views all along, but quite spectacular from the top. An unmaintained path leads south along the west base of the spires giving access, with short climbs, to two more saddles between sheer rock faces and a close-up view of an exposed lava dike at the first. Return by the same route for a 1.5 mile hike. Hot in summer.
Templeton Trail
This trail has 4 access points:
Bell Rock Pathway 1/3 miles north of Bell Rock.
Little Horse Trail parking area (Route 179 and mile post 309.8) and taking the Pathway south .3 miles to the H.T. Trail and then 3/4 miles southwest.
Cathedral Rock Trail for 0.3 miles from its trailhead off Back O'Beyond Road.
Baldwin Trail 
Hot Loop Trail
Trail number 40.
There's actually two ways to approach the Hot Loop, one is from a trailhead in Jacks Canyon near the Pine Flat Subdivision. The other is a trailhead in Woods Canyon off SR 179.
From the Jacks Canyon Trailhead (which has the best parking lot).
From the Woods Canyon Trailhead, you can access this trail near the Red Rock Ranger District Visitor Center on SR 179. At 1.25 miles, a trail sign marks the junction where Hot Loop branches off from Woods Canyon Trail, which continues up Woods Canyon. 
Chuckwagon Trail
This trail is one of several that lead to Devil's Bridge #120. Chuckwagon Trail : Low clearance vehicles can park at the Dry Creek Vista Trailhead at the end of the paved section of Dry Creek Road just after the right-hand turn at the fork mentioned above. This route adds 2.1 miles one-way of moderately easy rolling trail with fantastic views. The route is approximately 2.9 miles from this trailhead to the bridge (5.8 miles round trip), and directions to Devil's Bridge are well marked on the trail signs. (The unpaved portion of Dry Creek Road is a popular jeep trail, and not recommended for pedestrian use.)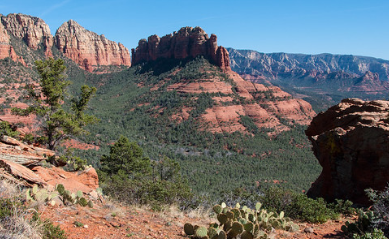 Brins Mesa Trail
Trail number 119. The usage for this trail is light-medium, and is rating easy to moderate. The hike is not too steep and not too long, but it can be a bit hot during summer. No matter, you'll be glad you braved the heat when you see the views. An alternate approach to the Brins Mesa Trail is to drive out Vultee Arch Road and hike it from that end-same trail, same great views.
Fee Sites are listed below
Baldwin Trailhead
Banjo Bill Picnic Area
Bell Rock Pathway Parking
Bootlegger Picnic Area
Boynton Canyon Trailhead
Cathedral Rock Trailhead
Courthouse Vista
Doe Mountain/Bear Mountain Trailhead
Encinoso Pinic Area
Halfway Picnic Area
Honanki Heritage Site
Huckaby Trailhead
Jim Thompson Trailhead
Little Horse Trailhead
Midgle Bridge Observation Site
Palatki Heritage Site
V Bar V Heritage Site
Yavapai Vista
We sell the Red Rock Annual Pass inside our giftshop at the Red Rock Visitor Center.
For more information about passes click the link : Passes and Information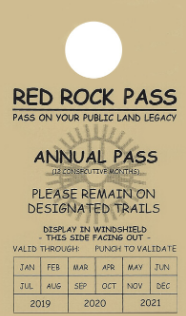 Passes do not guarantee parking availability. For your safety, please remember that parking outside of designated areas is discouraged and visitors who park illegally may be fined and towed. Passes are valid until 11:59 PM of the date listed on the pass, and only for the date(s) and vehicle specified for the pass. 
If purchasing your pass online, no printed copy of the pass will be available. Instead, your license plate number will be used to confirm compliance. If you purchase a Red Rock Annual Pass and no longer have the vehicle associated with the pass, contact the Recreation.gov Help Center and request a modification.
Passes are non-transferrable, non-refundable, not replaceable if lost or stolen, and are void if altered or reproduced.
Fossil Creek Fall & Winter Map
Fossil Creek Spring & Summer Map
Fossil Creek, one of two "Wild and Scenic" rivers in Arizona, seems to appear out of nowhere, gushing 20,000 gallons a minute out of a series of springs at the bottom of a 1,600 foot deep canyon. Over the years these calcium laden waters have laid down huge deposits of a type of limestone called travertine. That rock-like substance encases whatever happens to fall into the streambed, forming the fossils for which the area is named.