Tonto Basin Ranger District
Roosevelt Lake
Fishing is a common recreational activity at Roosevelt Lake. The lake is home to a variety of game fish including crappie, carp, sunfish, flathead, channel catfish, small and largemouth bass. There is no slot (size) limit for bass and you can keep six.
There are several Arizona Trail trailheads in the vicinity. The 800 mile (1,280 km) long hiking trail extending from the Arizona-Mexico border to Utah crosses the Salt River on the State Route 188 bridge crossing Theodore Roosevelt Lake just northeast of Roosevelt Dam.  At 13,000 acres, Theodore Roosevelt Lake makes a popular boating and fishing spot in central Arizona. Formed by the Roosevelt Dam, built in 1911, the lake and the dam both lie in the Tonto National Forest. You'll find several national forest campgrounds offering campsites for both RVs and tents. As you enjoy your camping experience, keep an eye out for the area's wildlife, including deer, javelinas and the occasional black bear.
Mesa Ranger District
Superstition Wilderness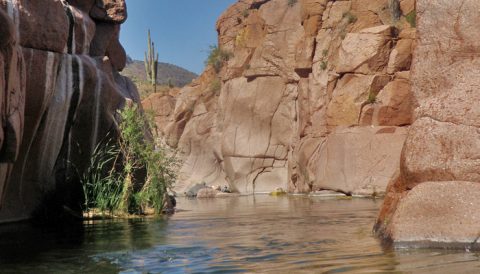 Superstition Wilderness has a well-developed system of 34 trails, tracking a total of 180 miles. A place of legend, this wilderness was first designated in 1939. It now contains approximately 160,200 acres. The western end of the wilderness receives heavy use during the cooler times of the year. The area is starkly beautiful, often rugged, almost always tough, especially for the ill-prepared. Searing heat and a shortage of water are typical in the summer. Bitter cold, torrential rains, and even snowstorms are typical in the winter. To those hardy enough to meet the challenges, this wilderness offers scenic beauty, and a chance to study the many plants and animals indigenous to the area.
Four Peaks Wilderness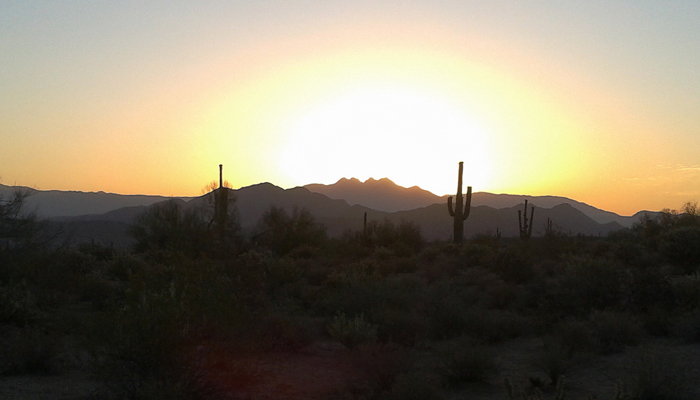 Four Peaks Wilderness was established in 1984, and contains approximately 60,740 acres with a major mountain rising up in its center from the desert foothills. The Four Peaks themselves are visible for many miles, and the rapid change in elevation produces interesting plant combinations. The Peaks are located in the southern end of the Mazatzal Mountain range in eastern Maricopa County and western Gila County. Eleven trails transverse 40 miles within Four Peaks.
Cave Creek Ranger District
Mazatzal Wilderness
The Mazatzal Wilderness embraces the north end of the Mazatzal Range, and consists predominantly of rough desert mountains, sometimes broken by narrow, vertical-walled canyons. Further west below the brush-covered foothills, the Verde River flows through the Sonoran Desert. The Verde River makes a good float trip, along with its near cousin – the Gila. Established in 1940; its name is Nahuatl, which is an old Indian culture of Mexico, means "Land of the Deer". Elevations range from 1,600 feet along the Verde River to 7,903 feet on Mazatzal Peak. There is an extensive system of 34 trails extending 240 miles; their condition varies from very good to poor.
Pleasant Valley Ranger District
Sierra Ancha Wilderness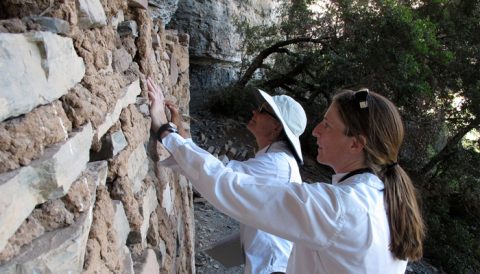 The Sierra Ancha Wilderness is small but special: precipitous box canyons, high vertical cliffs, and pine-covered mesas. The extremely rough topography limits (and in some places prohibits) cross-country travel; however, the area has a good system of 13 trails covering 60 miles. The many plant and animal species vary from those found on the desert to those found at 8,000 feet.
Salome Wilderness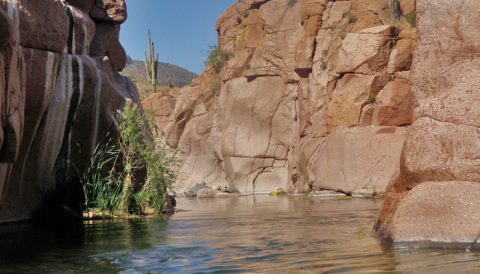 The Salome Wilderness is another wilderness with a major canyon running practically its entire length. At the upper reaches of Salome Creek and Workman Creek are small perennial streams snaking their way through the bottom of this scenic canyon. Inviting pools of water can be found nearly all year. Elevations range from 2,600 feet at the lower end of Salome Creek to 6,500 feet on Hopkins Mountain. Spring and fall are ideal times to visit this area however, with only 4 trails covering a mere 18.5 miles, access is limited.
Items you might need:  Trails Illustrated map, hat, sunscreen, WATER
Payson Ranger District
Hellsgate Wilderness
Hellsgate Wilderness has a major canyon and perennial stream extending its entire length. Deep pools of water are sometimes separated by impassable falls. Spring and fall are ideal times to visit this area; however, with only 4 trails coming in at 30 miles, access is limited.
Globe Ranger District
Salt River Canyon Wilderness
The vista where U.S. 60 crosses the Salt River Canyon has been described by many as the most dramatic in Arizona. It is here the highway descends 2,000 feet through  steep switchbacks, crosses a bridge, and ascends the opposite side of the canyon. About 20 miles below the bridge, the spectacular steep-walled canyon bisects Salt River Canyon Wilderness. Within this area, elevations range from 2,200 feet at the canyon's lower end to 4,200 feet on White Ledge Mountain. There have been more than 200 species of wildlife identified along the river.
Access to this area is extremely difficult, and there are no maintained trails. More than half of the area's human visitors are skilled white-water navigators, venturing down the Salt River during the short and dangerous river-running season from March 1 to May 15.
A visitor permit is required from March 1 to May 15, and group size is limited to 15 people.