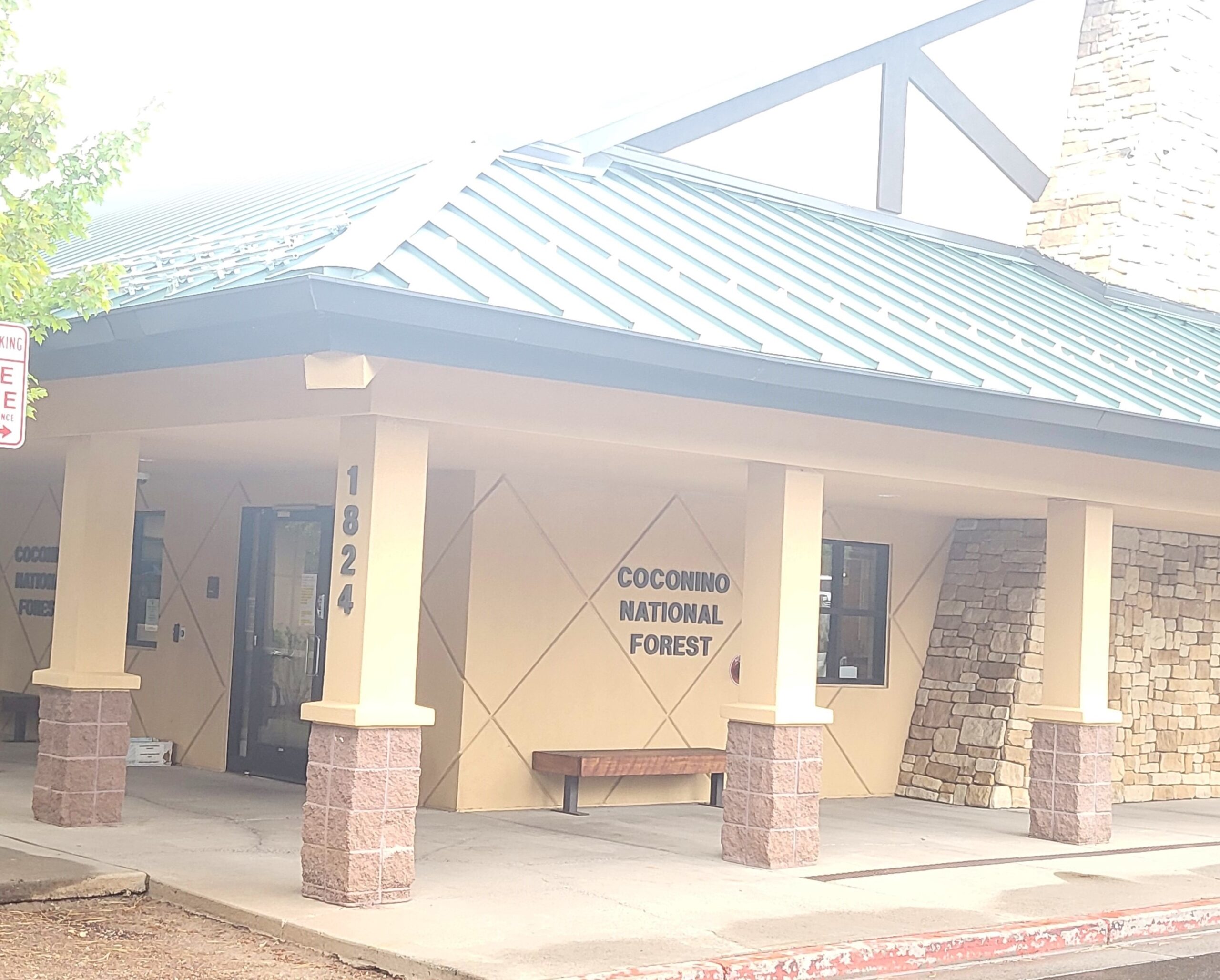 Supervisor's Headquarters
The Coconino National Forest is headquartered in Flagstaff,
Arizona. The Forest Service has three offices in Flagstaff: the Supervisor's Office,
Mormon Lake District Office and the Peaks Ranger District Office. Most people think of
Arizona as being hot, with desert vegetation. This is certainly not true in Flagstaff.
Flagstaff is surrounded by the Coconino National Forest, which in this area is primarily
ponderosa pine with a variety of wildlife and snow-capped San Francisco Peaks in the
winter.
Flagstaff Ranger Station
The Flagstaff Ranger District is beautiful with it's land full of ponderosa pine forests and pinyon/juniper woodlands gather around praries and small lakes. Arizona's largest natural lake, Mormon Lake, is located here. This location is also known for the abundance of wildlife. Recreation activities among the lakes and prairies are boating, fishing, camping, and wildlife watching. The area also has some excellent cross-country skiing in good snow years.
Blue Ridge
This narrow, winding body of water looks more like a canyon-bound river than a lake. Nestled between forested canyon walls it provides picturesque water recreation in a secluded, wooded setting. You can fish and catch rainbow, brown or brook trout. All are stocked by the Arizona Game and Fish Department. If your taste runs to other types of recreation, sightseeing, wildlife watching, hiking, and mountain biking here in the canyon-carved uplands of the Mogollon Plateau will make you glad you chose to visit this out of the way lake.
City of Flagstaff Parks and Recreation Department and the Flagstaff Athletic Center
East and West offer numerous indoor and outdoor activities. In addition, there is an
extensive Urban Trail System throughout the area connecting the city with the forest
trails system.
Nearby National Parks and Monuments include: the Grand Canyon, Montezuma
Castle, Walnut Canyon, Monument Valley, Painted Desert and Sunset Crater.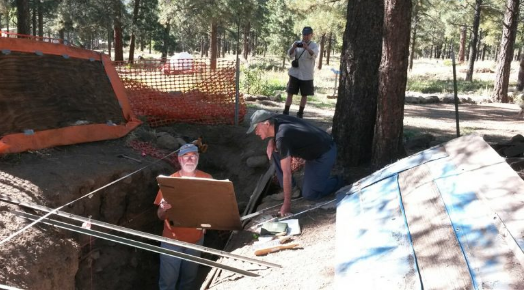 The site of Elden Pueblo is open to the public and is located one mile north of the Flagstaff Mall on U.S. Highway 89. Archaeological programs provide hands-on mapping, excavation, laboratory and analytical experiences for participants under professional supervision.  Through these personal experiences, participants are made aware of archaeological concepts, values, laws and practices.  Flagstaff  4th graders attend workshops every year! Elden Pueblo yearly schedule is located under News on this website. For more information visit http://www.fs.usda.gov/detail/coconino/learning/history-culture/?cid=stelprdb5274444
A prehistoric Native American village located at the foot of Mount Elden near Flagstaff, Arizona.   Elden Pueblo is thought to have been part of a major trading system. Various trade items such as macaw skeletons from Mexico as well as shell jewelry from the coast of California have been found throughout the site. The area is now protected and is used for research and educational purposes as the Elden Pueblo Project. The Elden Pueblo Project is a cooperative endeavor between the Coconino National Forest, the Arizona Natural History Association, and the Arizona Archaeological Society to provide educational opportunities in archaeology. Elden Pueblo is a 60-80 room pueblo of the prehistoric Sinagua culture and a Hopi ancestral site.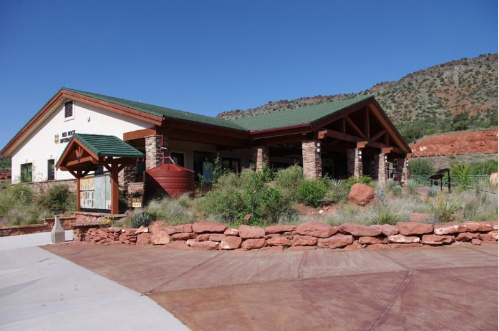 Red Rock Visitor Center
The Red Rock Ranger Station has an amazing visitor center where visitors and locals alike will enjoy learning about the area's many scenic wonders and world class recreation opportunities.
Services offered at the Red Rock Ranger District Visitor Center
Recreation Activity/Trip Planning Assistance
Detailed Trail/Road Information
Free Forest Recreation Guide with map
Arizona Natural History Association

 

Store (Maps, Books, Gifts)
Sale of Red Rock Passes (Daily, Weekly and Grand Annual only)
Sale of Federal Recreational Lands Passes  (America the Beautiful)
Sale of Forest Product Permits (personal use fuelwood, rock for landscaping)
General Forest information
V-bar-V
The V-bar-V petroglyph site is the largest known petroglyph site in the Verde Valley of central Arizona, and one of the best-preserved. The rock art site consists of 1,032 petroglyphs in 13 panels. Acquired by the Coconino National Forest in 1994, the site is protected and kept open to the public by the US Forest Service. Volunteers from the Verde Valley Archaeological Society and the Friends of the Forest provide interpretive tours and on-site management. Before Visiting Palatki and V bar V Heritage sites, please read Archaeological Site Guide to help you better enjoy your visit without causing inadvertent damage to the site
Palatki Heritage Site
Palatki and its sister site, Honanki, were the largest cliff dwellings of the Red Rock country between A.D.1150 – 1300. They were first described by Dr. Jesse Walter Fewkes, famous turn-of-the century archaeologist from the Smithsonian Institution, who gave them the Hopi names of Honanki (Bear House) and Palatki (Red House). The Hopi, however, have no specific names for these sites. Before you visit, please call for reservations at (928) 282-3854. Download specific information from the: Recreation.gov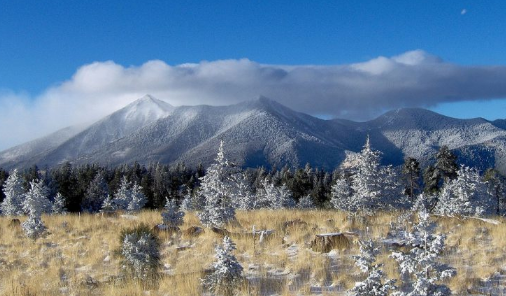 The San Francisco Peaks are a volcanic mountain range located in north central Arizona, just north of Flagstaff. The highest summit in the range, Humphreys Peak, is the highest point in the state of Arizona at 12,633 feet (3,851 m) in elevation. The San Francisco Peaks are the remains of an eroded stratovolcano An aquifer within the caldera supplies much of Flagstaff's water while the mountain itself is located within the Coconino National Forest and is a popular site for outdoor recreation